International Film Series: City of Ghosts
November 14, 2017 @ 7:00 pm
The Kenworthy would like to invite you to join us for the International Film Series. The International Film Series fulfills part of our goals and strategies by encouraging film and other performing arts that would not otherwise be available in the area; providing and promoting quality events for all patrons; and by prohibiting discrimination, in the entertainment and in the audience, on the basis of race, religion, color, national origin, gender, sexual orientation, disability, or age.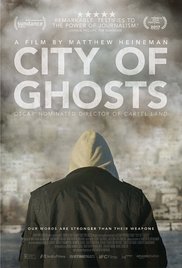 City of Ghosts
November 14, 7:00pm
This documentary goes behind enemy lines in Syria to follow the citizen journalist collective "Raqqa is Being Slaughtered Silently" as they attempt to expose the human rights violations by ISIS and fight the terrorist group's misinformation campaigns in their home country.
Directed by Matthew Heineman.
Rated: R (for disturbing violent content, and for some language)
Run time: 90 minutes
Language: English
Tickets: $5 for all seats